None of us are perfect! We have all made mistakes or wrong choices that we possibly regret or cringe at the thought of. I know that I have made plenty of mistakes, big or small throughout my lifetime and I know I am not the only one by far! However it is important to make mistakes. It is important to make the wrong decisions as it makes us a stronger people today. Whether it was a small mistake, or a big life decision gone badly, it is essential to making you who you are....
Loads of people, including myself, look back at events in the past and often cringe. Whether it is an embarrassing school moment, or a huge mistake, it can be horrible when you think of that moment again... you just want to forget about it all together, or go back and change it if you could! Nevertheless, it does help develop you as a person. Today, I am a lot more confident and focused.. a lot more than I was when I was still in school. Making all the mistakes I made when I was younger contributed massively towards that.
When I left school, I wasn't sure what career I wanted to delve into, however my first job ended up being in a nursery. After 5 weeks I quit! I hated it! I just knew after the first few days that the line of work was not for me and I had made a big mistake. After I left, I panicked. I never had a job, I wasn't in further education and I had nothing lined up! Of course everything worked out for the best, and looking back I am glad I made that mistake as it brought me to this point in my life. If you are working, then you will know how daunting it can be to get your first full time job and this was my first experience of really standing up and facing life head on.... on my own!
Thanks to making that mistake, my confidence grew massively and that in turn gave me the motivation to go for other jobs. Even today, I am in a very public orientated job and having that little boost of confidence is extremely helpful.
As I said previously, I left school with no idea what I wanted to do, however worked in a few different fields before settling where I am today. If it wasn't for making all those mistakes in my career, whether a change of job, or simply messing up a bit of paperwork, I would never have realised that being behind a computer was where I felt most comfortable... I would probably still be working somewhere I didn't want to.
Yes, it can be horrible making a mistake, big or small! However it helps make us stronger people today. So if you make a mistake today, remember that in a few years time, you will be thankful you did... it might have been one of the most important points of your life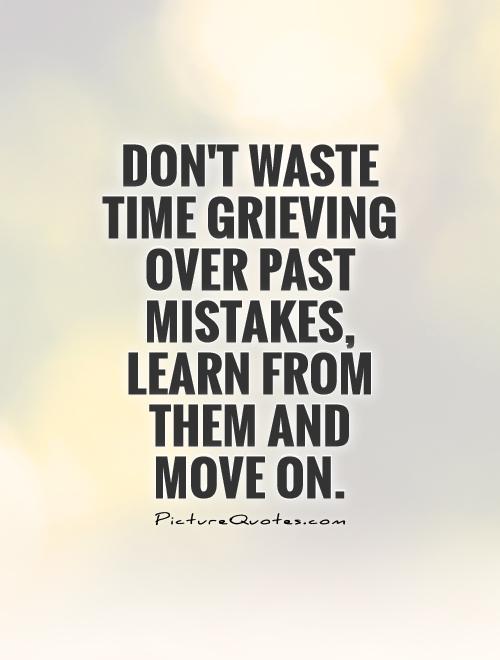 Thanks for reading, take care...
Nicole x