So in just over 3 weeks, I will be heading back to my dream place, Florida! I am so excited it is unreal, maybe even more so than the first time I went! Why? Because I know more about the parks and how the whole Disney thing works to make sure I get the best out of my time in the parks and hotels. I thought I would share my top must do's for Disney, to make any first timer or experienced visitors lives a little easier...
__________________________________________________
So the first thing to definitely take advantage of if you are staying on site in Disney is the Magic Band. This is one of the best little creations for the parks that Disney have made as it makes life a lot easier when you are zooming around all day on your feet! Literally everything is stored on this little gadget, from your room key, park tickets, card payment details and more. You can also use this to store your ride information, so all your fast passes will be on here, as well as your meal plans too! Literally with one little swipe, this band can save you so much time in queues, and is a great little accessory that shouldn't be underestimated!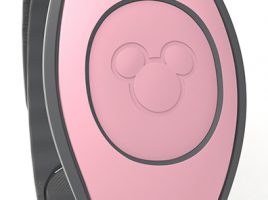 Another thing to make sure you do in Disney is to plan some of your days, but not too intensely that you can't enjoy it! I like to stroll around the parks and sse where I end up, sometimes it's part of the magic, however sometimes this can mean a lot of queuing and waiting around. if you know that on a certain day you want to do a certain ride, or eat at a certain restaurant, then book or plan in advance so you aren't left disappointing. A little research before hand can help you determine the busiest and quietest times too, so you get the best out of your day and get all things you want done done, without waiting around and wasting your day!
While on the subject of planning, the Disney Experience App is a must for every park goer! It again is very underestimated and a lot of people don't tend to bother with it, however it has lots of great information that can make your day a much smoother ride, including wait times, character meet spots and food menus. Perfect for staying organised on the go....
Another thing that saves you a lot of money in the long run is to buy what you need before going to the parks, whether it is at a Walmart in America, or even before your holiday begins. I always buy disposable ponchos, water sprays and a fold up water bottle and take them in my case beforehand as the parks like to charge super bucks for these when you are there. Also things like glow sticks are great for the night activities and shows and allows you to get in the action without having to spend lots on glow lights and flashing wands.
https://www.themeparktourist.com/news/20161224/32360/big-updates-walt-disney-world-and-beyond-week-december-19-26-2016
Lastly, and something I have learned massively, is don't underestimate the hotels. Like really! I always feel in a place like Disney, you are constantly out and about and feel your should be using the buses to try the different parks, however the hotels offer some amazing entertainment and is often forgotten about. They have daily timetables full of entertainment for kids and adults, arcades, play parks and often elaborate pools featuring slides and water features. Their are also 'Movies under the stars' where each night, a movie is played outside in the hotel, great for a relaxing night. A few hotels offer marshmallow toasting too, however even if you aren't part of the hotel, their are buses that can take you along to join in.
The hotels are great and a brilliant place to relax and soak in the sun too if you need to rest your feet, so it's important to take advantage of the amazing things they offer. Not to mention some of the restaurants in these hotels have been voted the best in Disney!
_________________________________________
This post is going to be the start of a flood of Disney content on my social media. As the day draws closer I know I will not be able to contain my excitement. However I hope that all the things I have learned from my last trip over 2 years ago will benefit me when I visit this year as I am sure I will have a lot more knowledge and be more Disney savvy than before...
Follow me to ensure you never miss a post......

Thanks for reading and take care! :)
Remember to visit my social media links below: